HM-ZD350K-C Automatic rigid box machine Description:
HM-ZD350K-C Automatic Rigid Box Machine is a multi-functional automatic intelligent equipment designed specially for boxes with (thick) tray and various of premium boxes in mass production, such as boxes with tray, high-grade jewelry boxes, mobile phone boxes, gift boxes, cosmetic boxes, watch boxes, ect. The maxium size can be 350mm in length,250mm in width. Size range is bigger and more suitable for current packaging market. Machine's appearance is new design which is safer and more beautiful.
HM-ZD350K-C adopts PLC and man-machine control, camera tracing system, and can automatically feed cover paper,feed greyboard, glue the paper, spot the basw tray, spraying glue on the bottom tray, spot the box shell, lift box, fold corner edges and wrap box.
The feeder, the gluer and the conveyor are driven by servos which have continuously variable transmission and enjoy high accuracy, easy adjusting, and efficiency. Double colors conveyor can save the time for changing to other color belt,which is Hongming' s patent. The spray glued part of the base tray adopts the well-known brand hot glue machine, and the glue spraying effect is good. The base tray and the box shell unit adopt camera tracing system and robot arm to pick spot the bottom plate, enhancing the spotter accuracy to ±0.05mm. The forming unit employs Japan THK linear slider and virtual electronic cam driving system, guaranteeing the stable quality and fluent movement and enlarge the folding-in depth and corner edges.
Features and function:
1. Suit to all kinds of rigid boxes in mass production
2. Auto error stop and display
3. Automatic feed paper and greyboard
4. Base tray spray gluing function
5. 24-hour control for glue pre-heating
6. Adopts YASKAWA servo control system
7. Spotter by camera tracing system and SCARA (Selective
Compliance Assembly Robot Arm) (spotting accuracy±0.05mm).
8. Wrapper can automatic lift and wrap box.

9. Automatic control system for glue viscosity(optional).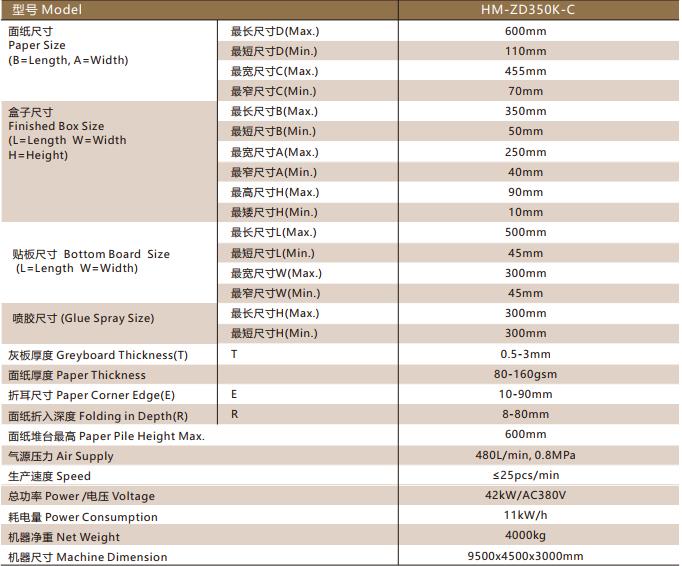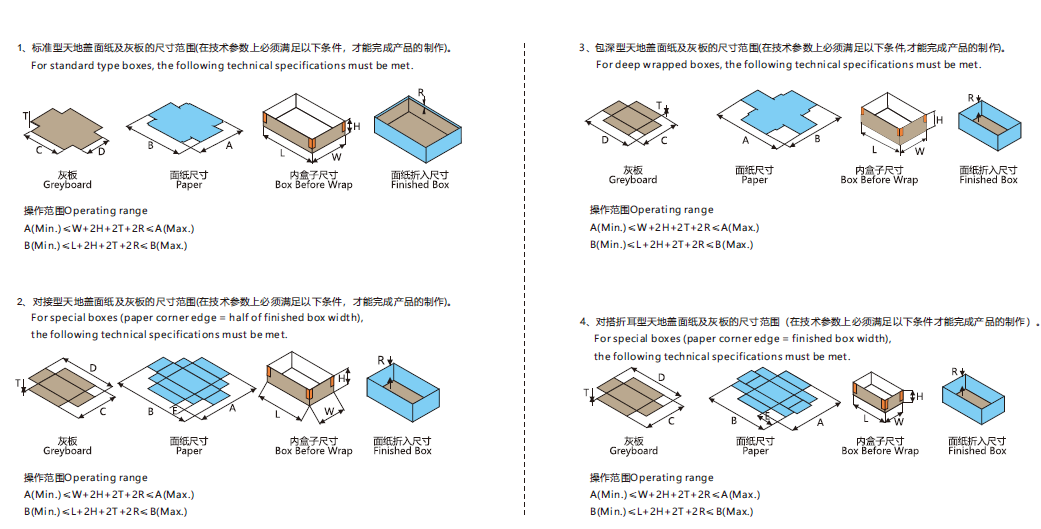 Note:
1、The Finished Box Max. sizes are determined by paper size.A(Min.)≤W+2H+2T+2R≤A(Max.); B(Min.)≤L+2H+2T+2R≤B(Max.)
2、The production speed of the rigid box machine is determined by the box size,the paper and the greyboard materials.
3、Seller doesn't provide air compressor. (8atm=0.808MPa, 7.5kW compressor is needed)
TAG:&nbsp&nbsp&nbspAutomatic rigid box machine&nbspcardboard box machine, paper box machine&nbspcosmetic box machine